News
City of Bartlesville
Posted: Oct 11, 2018 11:09 AMUpdated: Oct 11, 2018 11:09 AM
Fire Department Teaches Fire Safety to Students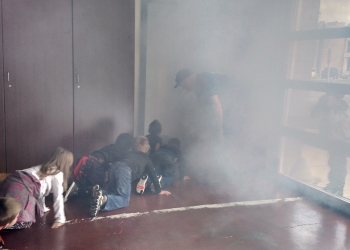 Garrett Giles
Bartlesville firefighters teach fire safety to local students.
Bartlesville firefighters played host to nearly 400 first-graders last week to teach them about fire safety during Fire Prevention Week.
"The first graders were taught about the importance of home exit drills, smoke detectors, general fire safety and how to crawl out of a smoky environment," Bartlesville Fire Department Public Information/Training Officer Bill Hollander says.
Hollander says they accomplished this by placing a smoke generator in a room that the kids then crawled through to find the exit.
"As a bonus, all of the children got to slide down the firefighters' slide," he says.
« Back to News