News
Washington County
Posted: Oct 02, 2018 3:03 PMUpdated: Oct 02, 2018 4:07 PM
Bartlesville Man Fires Shots at iPhone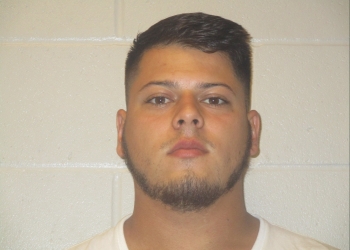 Max Gross
A man who became frustrated with his estranged wife allegedly shot her cell phone six times with a firearm. Joseph Moore appeared at the Washington County Courthouse on Monday facing charges of burglary in the first degree, malicious damage to private property and recklessly handling a firearm.
According to an affidavit, an officer reported to the scene of a domestic incident and noticed an iPhone sitting on the porch of a residence. The phone had six holes resembling the appearance of bullet holes. A female victim told the officer that Moore had become upset with her and fired six shots at the phone.
The victim alleges that Moore came to her home unannounced and entered through the back door. Several members of the victim's family were in the house. Moore and the victim have a two-year old daughter together. The juvenile was standing in the front doorway of the house when Moore allegedly fired shots at the phone.
Moore was placed under arrest at this time. His bond was set at $1,500.
« Back to News