News
Washington County
Posted: May 17, 2018 5:04 PMUpdated: May 17, 2018 5:04 PM
The Circus Comes To Town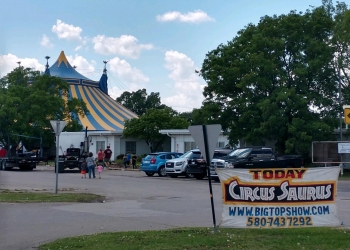 Ben Nicholas
Circus Saurus is making its grand entrance in Dewey tonight with shows starting at 4:30 and 7:30.
The circus is in town for one night only at the Fairgrounds in Dewey. The circus will feature dinosaurs, a wooly mammoth, and two Asian elephants.
Before the show, guests were treated to a bathing of the elephants at 3:00. The elephants were scrubbed down and cleaned with around 500 gallons of water and one gallon of special soap. Several special guests were able to assist in the cleaning of the elephants by brushing their backs.
We have a complete video of the elephant shower here
« Back to News