News
City of Bartlesville
Posted: May 16, 2018 1:19 PMUpdated: May 16, 2018 1:19 PM
BPSD Receiving Trauma Kits For Classrooms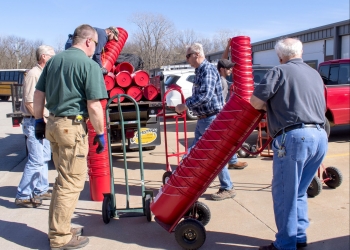 Ben Nicholas
Thanks to support from Chevron Phillips Chemical Company, the Bartlesville Public School District will be distributing buckets with medical supplies to all district classrooms.
Chevron Phillips supplied 485 plastic 5-gallon buckets and $1,000 to the Woodrow Wilson Elementary School Parent-Teacher Organization to purchase trauma kit supplies for each bucket.
Elementary school students in the Wilson Service Club worked with Wilson's Financial Secretary, Carrie Fodor, and Kerry Ickleberry, the district's Safe and Healthy Schools Coordinator, to assemble the kits.
The kits will include a tourniquet, gauze, items to stop bleeding, gloves, trash bags, and a CPR mask. They will be distributed to classrooms across the district.
« Back to News