News
Sports
Posted: May 16, 2018 7:21 AMUpdated: May 16, 2018 7:21 AM
Players to Get Blank Slate With Blankenship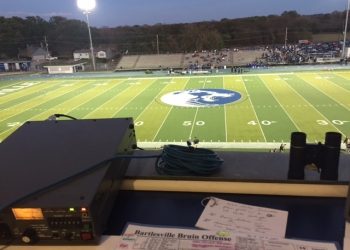 Evan Fahrbach
The past does not guarentee the future - especially under a new head coach.
Bartlesville High is into its third day of spring football practice under first-year head coach Lee Blankenship on Wednesday. BHS is still learning Blankenship's rules and culture, as actual practice won't likely start until Thursday.
Blankenship has had a chance to see some of his team on film from this past season, but he is waiting until practice begins to make any determinations on players. Blankenship talks about balancing the past with the future.
The Bruins return about half their starters from a season ago, with running backs and defensive backs leading the returning core.
We will have more on Bruin football as the spring rolls on.
« Back to News