News
Arvest Bank
Posted: Apr 16, 2018 4:40 PMUpdated: Apr 16, 2018 4:40 PM
Arvest Foundation Makes Donation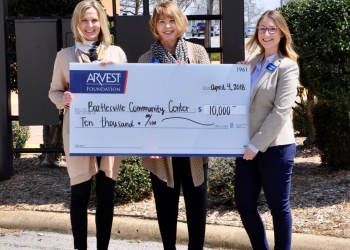 Ben Nicholas
The Bartlesville Community Center's marquee will be getting a much needed upgrade thanks in part to a $10,000 donation from the Arvest Foundation.
The gift was announced at the Bartlesville Community Center. Andy Novak and Annah Fischer of Arvest Bank were on hand to present the check.
Opened in January of 1982, the Bartlesville Community Center is recognized as one of the finest performing arts halls in the country. The Center has played host to an amazing array of events and is home to seven local presenting arts groups who perform their concerts and productions at the Center. They include Bartlesville Choral Society, Bartlesville Civic Ballet, Bartlesville Community Concert Association, Bartlesville Symphony Orchestra, Broadway in Bartlesville, Children's Musical Theater, and OKM Musical Festival.
« Back to News