News
Local News
Posted: Apr 08, 2018 4:12 PMUpdated: Apr 10, 2018 9:29 AM
P66 Funds RSU Stem Summer Camps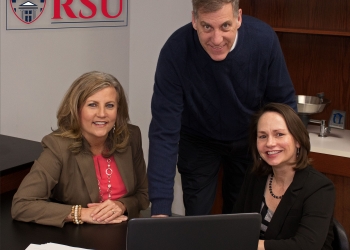 Charlie Taraboletti
Local middle school students will have more opportunities to expand their knowledge of science and math this summer through a Rogers State University's summer STEM and Career Exploring Opportunities Camp.
Thanks to a grant from Phillips 66, RSU's STEM CEO Summer Camp initiative will provide a five-day camp with indoor and outdoor interactive activities designed to teach new STEM competencies and explore STEM career opportunities.
Technology Vice-President for Phillips 66, Ann Oglesby says the company hopes the camp will encourage local students to pursue further education and careers in STEM disciplines. She goes on to say the ultimate goal is to inspire the students to one day generate solutions to new challenges and technological innovations in business.
RSU-Bartlesville will collaborate with five middle schools and make the experience available for 100 area students who will be starting 9th grade this fall. Twenty students will be selected by way of a formal application process, which begins with school counselors.
There is no application fee, no cost for participants to attend, and lunch will be provided. RSU Bartlesville faculty, local experts, and business professionals will facilitate the enrichment sessions, teaching STEM competencies and exploring STEM career opportunities, including lunch with a local business professional. In addition students will take part in a recognition day program where they will receive a camp t-shirt, a $25 gift card, and a certificate of completion.
Dates for the five-day camp vary. Camp 1, for Wesleyan Christian School, will be held June 4th through the 8th; Camp 2 for St. John Catholic School, will be held June 18th through the 22ne; Camp 3, for Central Middle School will be held June 25th through the 29th; Camp 4, for Dewey Middle School, will be held July 9th through the 13th; and Camp 5, for Madison Middle School, will be held July 23rd through the 27th. Each Camp will be held Monday through Friday, from 9 to 3 at RSU.
To learn more about the STEM CEO Summer Camp, contact RSU faculty member and STEM Camp Director Mr. Chris Ruhl by phone at 918-338-8039 or by e-mail at cruhl@rsu.edu. To learn how local RSU Bartlesville support impacts students in Bartlesville, contact Angie Thompson, Development Officer for the RSU Foundation at athompson@rsu.edu.
« Back to News