News
Osage County
Posted: Mar 13, 2018 8:30 AMUpdated: Mar 13, 2018 8:30 AM
Osage Commissioner Discuss New Fairgrounds Equipment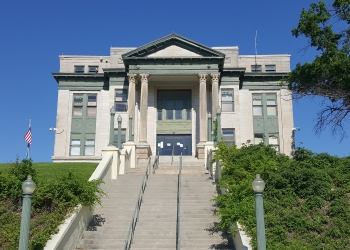 Bill Lynch
During a brief meeting Monday the Osage County Commissioners approved all actionable items on their agenda, including the approval to go out for bid on a new Skid-steer for the Osage County Fairgrounds.
The county has been borrowing a skid-steer to get by as the county owned equipment has been prone to failure. Fortunately, the opportunity to borrow a variety of different equipment has provided the Fairgrounds an opportunity to find exactly what they need to request from a bid. The County is looking for a tracked skid-steer which can utilize the county's existing equipment and comes with a brush attachment. The Commissioners will open bids at a future meeting.
The Commissioners also approved the use of the second floor of the Whiting Building for the District Attorneys Office. The floor was used by the OSU Extension office before their move out to the fairgrounds . The DA's office requested the additional floor space as they may be reaching weight capacity in their records storage room, as they are required to keep all court documents in perpetuity.
The Osage County Board of County Commissioners will meet again next Monday at the Osage County Courthouse in Pawhuska.
« Back to News