News
Bartlesville
Posted: Feb 09, 2018 2:25 PMUpdated: Feb 10, 2018 6:04 AM
Bartlesville Credit Union Robbed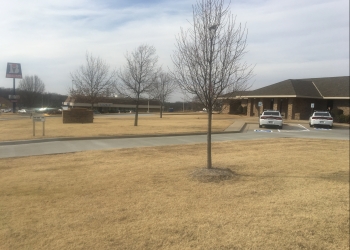 Max Gross
Bartlesville's OK Federal Credit Union was robbed at about 2 o'clock Friday afternoon, February 9th.
Police say an approximately 40 year-old man entered the bank and handed the teller a note, saying he had a gun and to give him money.
The man is about 6 feet tall with a thin build, weighing about 170 pounds. He was wearing a dark-colored long-sleeved shirt and tan pants. He also had on a dark hat and sunglasses. The shirt may have had some sort of racing-style logos.
No weapon was actually seen by the teller. No injuries were reported. The male suspect left the bank and got into a brown and tan early 1997 to 2003 model ford pickup parked in the quarters parking to the east of the bank. The brown pickup was last seen driving south on Adams road towards Adam boulevard.
If you have information or may have witnessed the incident please contact the Police at 918-338-4001.
Crime doesn't pay, but Crime Stoppers does. Crime Stoppers will pay up to $1000 cash for information leading to the arrest of the parties responsible for crime(s). Anyone with information regarding crime, or any other in Bartlesville, Dewey, or Washington County may call Crime Stoppers at 336–CLUE (336-2583), or 1-800-222-TIPS (8477).
You can also submit a web tip at www.neokcs.org or use the free "P3 TIPS" smart phone app anytime day or night. The phone numbers have no caller-ID attached and your identity is not traceable via the web or the app, so you can remain anonymous. Identification numbers are assigned to each person who calls so arrangements can be made for payment. Crime Stoppers wants your information, not your name.
« Back to News