News
Bartlesville Public Schools
Posted: Dec 07, 2017 3:30 PMUpdated: Dec 07, 2017 3:30 PM
Globetrotter Brings Anti-Drug Message To Central Middle School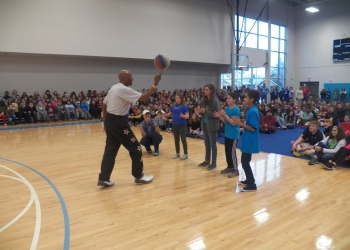 Ben Nicholas
A former Harlem Globetrotter, Valentino "Captain Magic" Willis, entertained and spoke about anti-drug and alcohol awareness to students at Central Middle School last week.

The school's new gym was filled as "Captain Magic" showed off a couple of quick tricks with the basketball and ran around the gym high-fiving the students. He then let them know his purpose wasn't to talk about basketball but to talk about staying away from drugs, cigarettes, and alcohol as well as respecting each other, teachers, principals, and parents.

Central Middle School students and staff enjoyed his presentation as "Captain Magic" also went out of his way to involve the special needs students and took a moment to pose for pictures with the students from the multiple-disabilities class.

Initially drafted by the New Jersey Nets, Valentino played in the Eastern Professional Basketball League where he averaged 25 points per game. He conducts basketball clinics and participates in the Special Olympics. He has also appeared in several commercials and movies, including appearing with Michael Jackson and Diana Ross in the "The Wiz" and Ray Bolger in "For Heaven's Sake".
« Back to News