News
Washington County
Posted: Nov 13, 2017 10:26 AMUpdated: Nov 13, 2017 3:52 PM
Washington County Board of Commissioners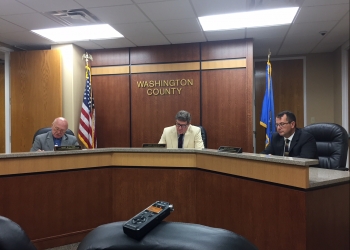 Ben Nicholas
The Washington County Board of Commissioners opened their meeting on Monday morning by Honoring Joanne Bennet, who recently passed away and was a Washington County Commissioner. The commissioners would then move to approve several items that would appoint Shannon Adcock to the Washington County Free Fair Board, and take care of monthly duties for the Washington County Election Board for October.
During the Commissioners' Report, Commissioner Mitch Antle announced that he has received word that the Dam Project will be completed between December 12, and January 8. Commissioner Mike Bouvier announced that Road 4025 will have a railcar brought in on it, and Commissioner Dunlap announced that he will attend the TIF meeting on Wednesday for the City of Bartlesville, which is about the Wellington Hillcrest Retirement Community.
All other items in the meeting were approved, all recites were received. The Washington County Board of Commissioners will meet again next Monday morning in the Commissioners Meeting Room.
« Back to News