News
Nowata County
Posted: Nov 13, 2017 9:25 AMUpdated: Nov 13, 2017 9:26 AM
Nowata Commissioners Discuss Election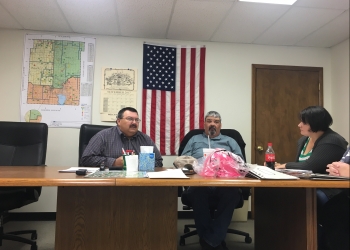 Max Gross
The Nowata County Commissioners discussed concerns with the upcoming election at a brief meeting on Monday morning.
The election will be held Tuesday and the only item on the ballot is a five-year extension on a one percent sales tax for the road and bridges of Nowata County. Curtis Barnes explains how important this tax is for the commissioners.
If this tax is not passed then the county would have to make several cuts and layoffs to county employees would be likely. Barnes wanted to ensure voters that this a not a new tax but rather an extension of previously existing tax.
The commissioners do face some opposition on this measure. District Attorney Kevin Buchanan sent out a letter to all Nowata County residents encouraging them to turn down the measure. Buchanan says the commissioners did not want to use this tax to fund the sheriff's office.
Both sides encouraged the residents of Nowata County to vote in the special election that will be held Tuesday.
« Back to News