News
City of Bartlesville
Posted: Nov 09, 2017 10:47 AMUpdated: Nov 09, 2017 10:47 AM
Bartlesville Acquires Parking Enforcement Vehicle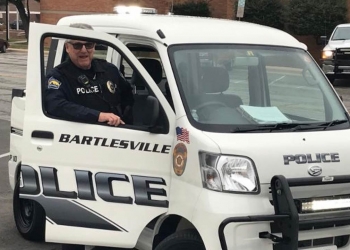 Charlie Taraboletti
Have you seen the City of Bartlesville's new parking enforcement vehicle? Officials say the 2017 Daihatsu Hi-Jet Deck Van began patrolling downtown streets this week. The new van was purchased earlier this year using money from a 2017 Fiscal Year Capital Improvement fund approved by voters.
According to Police Captain Rocky Bevard, the vehicle will be used primarily by Parking Enforcement Officer, Ray Raley in downtown Bartlesville. It could also be used to access Pathfinder Parkway if needed, or at special events such as traffic control at parades or other public events as necessary.
Bevard says the previous parking enforcement vehicle had become to costly to maintain and had no air conditioning.
Photo courtesy of The News on 6, KOTV
« Back to News