News
State of Oklahoma
Posted: Oct 13, 2017 3:17 PMUpdated: Oct 13, 2017 3:17 PM
Whooping Cranes Migrating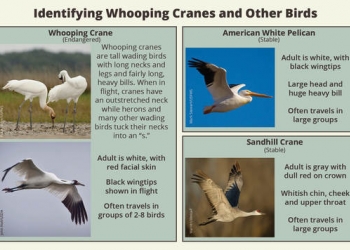 Ben Nicholas
Whooping cranes are North America's tallest and most rare of birds. The last remaining wild flock has been rebuilding for decades; increasing steadily from their lowest point of 16 birds in 1941. This year, the flock continued to grow.

The Wildlife Department compiles sightings from Oklahoma's wildlife enthusiasts each year to help the U.S. Fish and Wildlife Service track this endangered bird's path across our state.

Matt Fullerton, endangered species biologist for the Oklahoma Department of Wildlife Conservation says that sightings can be shared at wildlifedepartment.com.

To best help biologists monitor the birds, the date, specific location, and number of birds should be included in each report. Band information (color or number sequence), if any, will allow individual birds to be tracked across the state.

Most whooping cranes are reported in Oklahoma from mid-October through November. Sightings often come from western Oklahoma, typically east of Guymon and west of Interstate 35.

The bird's final destination, Aransas National Wildlife Refuge, was hard hit by the recent hurricane but biologists are optimistic the cranes will adjust to the new conditions.

Contact Fullerton at (580) 571-5820 or Mark Howery, wildlife diversity biologist for the Wildlife Department, at (405) 990-7259 to learn more about whooping cranes or to report a sighting offline.
« Back to News