News
Washington County
Posted: Sep 11, 2017 11:46 AMUpdated: Sep 11, 2017 11:46 AM
Washington County Board of Commissioners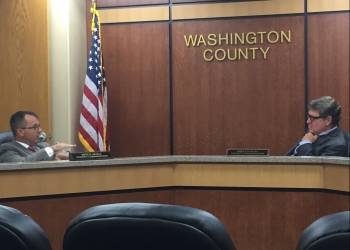 Ben Nicholas
The Washington County Board of Commissioners met for a brief meeting on Monday morning where they received several reports from outlets like the Washington County Election Board and Washington County Adult Drug Court.
During the Commissioners' Report, Washington County Emergency Management Director, Kary Cox, was asked to brief the commissioners on the relief efforts in Houston, Texas, after Hurricane Harvey.
Cox says that it was good to be able to help, and to learn and better plan in case a disaster were to occur. Cox then updated the commissioners on where the WCEM was at regarding the hurricanes in Florida.
Both Commissioners Mike Dunlap and Mitch Antle thanked Cox for his efforts, and Dunlap noted that it was always good to help our fellow man. Commissioner Mike Bouvier was not in attendance at this meeting.
All other items in the meeting were approved, and all receipts were received. The Washington County Board of Commissioners will meet at their next scheduled meeting on Monday morning in the Commissioners' Meeting Room.
« Back to News