News
Washington County
Posted: Jul 17, 2017 10:41 AMUpdated: Jul 17, 2017 10:58 AM
Washington County Board of Commissioners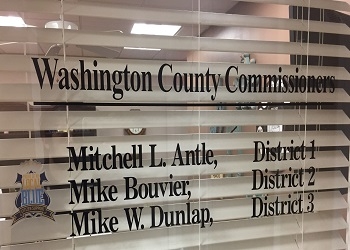 Ben Nicholas
The Washington County Board of Commissioners met at their regularly scheduled meeting on Monday morning where their first item of business was to approve quotes on chips for roads, and the hauling of those chips.
A resolution was approved for work on Bridge 115. Commissioner Mike Bouvier says that he is working on the bridge, and it must be completed by september, or else it will be shut down.
During the Commissioners' Report, each commissioner announced that work on roads would continue in their district, including work on Road 4000 and Road 1200, as well as Gap Road.
Finally, an agreement was also made between the county and Rogers State University for three parking sports.
All other items in the meeting were approved, and all reciepts were recieved. The Washington County Board of Commissioners will meet again next Monday morning at 9:30.
« Back to News