News
Local News
Posted: Mar 06, 2017 8:26 AMUpdated: Mar 06, 2017 8:26 AM
ConocoPhillips Donates Toward Club Construction Work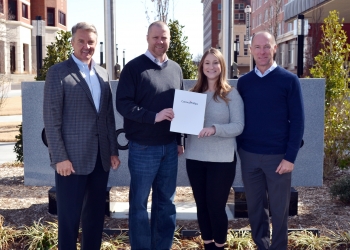 Charlie Taraboletti
ConocoPhillips has donated $250,000 to Bartlesville's Boys and Girls Club to help build its new facility.
The new facility will be built on the site of the existing one and is expected to be complete in the summer of 2018. The building will be named in honor of former Phillips Petroleum Company Chairman and Chief Executive Officer C.J. "Pete" Silas, who was a BGC member growing up and went on to assume the chairmanship of the national organization.
Manager for ConocoPhillips Real Estate & Facilities Services organization, Mark Headley says the company is proud to make the donation. He says the Boys and Girls Club does great work for our community, and the gift will help ensure they continue to do so well into the future.
The C. J. "Pete" Silas Boys and Girls Club facility near the intersection of Seminole Ave. and 5th Street will feature a wide array of facilities to serve the community's youth, including a gymnasium, a café, a learning center, classrooms, a game room, a preteen center, teen rooms, meeting rooms, a dance studio and a music studio. The grounds will feature a baseball diamond, a basketball court and parking as well.
« Back to News