News
Osage Nation
Posted: Aug 24, 2016 4:00 PMUpdated: Aug 24, 2016 4:04 PM
Osage Nation Receives Bluestem Ranch Property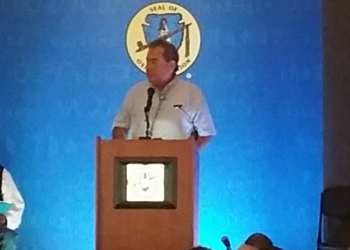 Charlie Taraboletti
Ownership of the 43-thousand acre Bluestem Ranch has been transferred to the Osage Nation. Federal dignitaries, Osage Nation officials, and the Chief Executive Officer of Turner Enterprises gathered on the ranch Wednesday to mark the occasion.
Principal Chief of the Osage Nation Geoffrey Standing Bear says Ted Turner contacted him last year with a proposition to sell the property.

The Osage Nation arrived in what is now Osage County from their former reservations in Missouri and Kansas in 1871. The final home of the Osages consisted of one million 470 thousand 59 acres. The Federal government divided it into separate parcels in 1906.

According to Chief Standing Bear, talks are under way to return the property to "reservation status" so that it will remain Osage Nation property forever.

Turner Enterprises used the property as ranch land, but Standing Bear says it will now have several purposes.

Standing Bear says the Osage Nation intends to protect and sustain the land for future generations of Osages.
« Back to News