News
U. S. Air Force
Posted: Jul 18, 2016 11:01 AMUpdated: Jul 18, 2016 11:01 AM
Skiatook Staff Sargeant Named Airman of the Year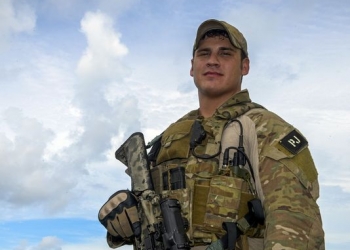 Charlie Taraboletti
An Air Force Staff Sargeant from Skiatook has been named the Air Force Times Airman of the Year.
Staff Sgt. Clifford "Dylan" Crawford is a para-rescueman with the 31st Rescue Squaron at Kadena Air Force Base in Okinawa. A massive earthquake and aftershocks that struck Nepal last year resulted in "the pararescue mission of the century" for Crawford.
Crawford wasa participating in a training exercise in April of last year when a 7.8-magitude earthquake struck near the Ghorka District of Nepal. He was one of five airmen who immediately volunteered to go help.
The crews of two Ospreys flew throughout Nepal, looking for signs of people who needed help. When his Osprey landed, Crawford would go into each village and either examine the wounded who had already been taken to a collection point, or help dig wounded Nepalese out of the rubble. Crawford helped get the wounded back to the helicopter and transport them to a mini-hospital in Kathmandu for further treatment.
According to the Air Force Times, Crawford and his fellow airmen were in Nepal for three weeks in all. During that time, he helped save the lives of 44 Nepalese.
Crawford is the Godson of Osage County Undersheriff, Lou Ann Brown.
PHOTO COURTESY OF CLIFFORD CRAWFORD
« Back to News