Sports » Latest News
Nowata Basketball, Oklahoma Union Basketball
Posted: Jan 14, 2022 8:12 PMUpdated: Jan 14, 2022 9:12 PM
Ironmen Down Second-Ranked OKU for Ninth Straight Win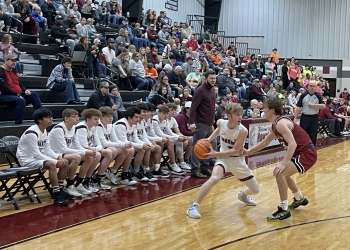 The Nowata Ironmen pulled a colossal upset on Friday night as they took down No. 2 Oklahoma Union 55-30. The Ironmen get their first victory over OKU since February 2018.
Nowata took charge of the game early on as it went on a 7-0 run to open the game over the first six minutes. Jace Thompson carried the scoring load for the Ironmen once again. Thompson hit five first-half three's on the day. This one helped build the Ironmen lead in the second quarter.
Nowata led 29-19 at the break. The Cougars scrapped a bit after the slow start to the contest but came out flat in the third quarter. The Ironmen would outscore OKU 19-6 in the third period and the route was on from there. Nowata's lead was 23 points by the end of the third period and it wouldn't look back.
Thompson, James Ewers, Kaleb Bashford and Skylar Stevens all tallied in double-figures. Nowata beat No. 19 Caney Valley earlier this week and now has taken down No. 2 OKU despite not cracking the top 20 themselves. Stevens says the team felt a jolt at the beginning of the week.
Nowata has now won nine games in a row. OKU drops to 10-3 and sees its 26-game Northeast Valley Conference winning streak come to an end. The two schools will play at Oklahoma Union on February 4.
« Back to Sports