Sports » Latest News
Sports
Posted: Sep 16, 2023 4:52 AMUpdated: Sep 16, 2023 5:52 AM
Huskies Drop Home Opener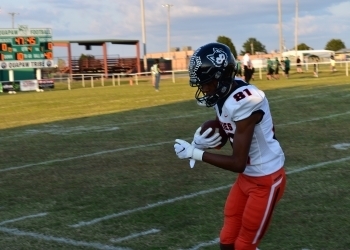 The Pawhuska Huskies debuted the new look Ormond-Beach Memorial Stadium on Friday night looking to get back on track following last week's loss to Hominy. Unfortunately, the same misfortune came Pawhuska's way against Woodland, as the Huskies fell, 38-22.
Pawhuska fell behind early, as Woodland drove down the field to take an 8-0 lead, but the Huskies struck back and this quarterback keeper gave the Huskies their first points of the game.
Leading 12-8, the Huskies were hoping to get more with a goal to goal situation in the second quarter, but they were stopped short on all four downs. The defense made up for it though by getting this big stop.
Trailing by 10 in the second half, Pawhuska got a key stop in the second half and a solid offensive drive put them in possession to score once more.
The Huskies were unable to convert on that two-point conversion and from there on were outscored 12-0 as Woodland went on to get the 16 point win. Mason Snodgrass was named the Player of the Game for his efforts both offensively and defensively.
Up next for Pawhuska is a home game with Vinita.
« Back to Sports