Sports » Latest News
Sports
Posted: Jul 01, 2022 7:19 AMUpdated: Jul 01, 2022 8:19 AM
Football is One Month Away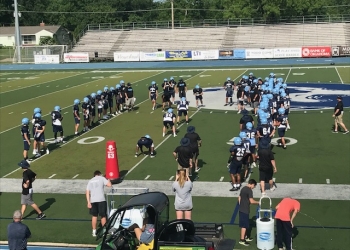 The OSSAA Dead Period is here, which means work at all school-owned properties will stop for almost two weeks in-order to give the student-athletes and coaches some time off before the fall.
This means there will be no 7-on-7 drills or summer pride workouts for Bartlesville High football. The Bruins will be in their final stretch of the offseason when they return from the dead period in more than a week. BHS has been through a handful of camps in the past month.
The entire club went to Pittsburg State's camp in early June, then there have been some camps for lineman that some Bruins attended more recently.
First year head coach Harry Wright says that time away is important team-building.
7-on-7 has been a constant for some of the skill guys, as well. Bartlesville has attended tournaments and regular action on Bixby. Although much different from a game, Wright says the 7-on-7 stuff has been good for offensive and defensive guys to further familiarize themselves with a new system.
After Bartlesville returns from the dead period, they will be less than three weeks away from practice starting.
« Back to Sports