Sports » Latest News
Sports
Posted: Sep 15, 2023 10:28 PMUpdated: Sep 15, 2023 11:30 PM
Bruin Football Loses at Collinsville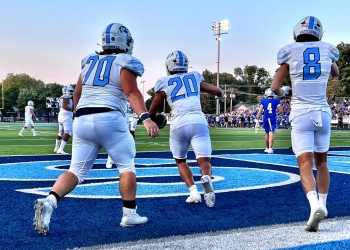 Bartlesville football is off to an 0-3 start against a tough schedule, as the Bruins again lost to a 5A foe on Friday night.
Despite another gritty come-from-behind effort, a late touchdown again burned Bartlesville, as Collinsville held serve at home over BHS, winning 27-14 at home on Friday night.
Bartlesville trailed 20-7 at halftime and made it a one-score game with a fourth-down touchdown pickup from PJ Wallace, his second touchdown of the night.
It was miscues from the Bruin defense and special teams that mostly cost BHS. Two of the Cardinals three offensive touchdowns came on long plays. A 42-yard back-breaking TD run from Collinsville back up running back Scott Rigby with 2:00 minutes left effectively ended the game.
The other long score was a 57-yard pass to Hudson Henslick, who scored three of the Cardinals four touchdowns on the night.
Bartlesville had a brief 7-0 lead in the first quarter on Wallace's first score of the night, a dive over the goal line on third and goal. Wallace was our Patriot Auto Group player of the game with nearly 160 yards on the night.
However, a special teams error would lead to Henslick answering immediately with a 94-yard kick return for a touchdown.
Bartlesville is 0-3 and begins District play at Booker T. on Friday night.
« Back to Sports