News
Bartlesville
Posted: Sep 18, 2023 9:52 AMUpdated: Sep 18, 2023 11:10 AM
Back to Bartlesville Regional Fly-In Fri and Sat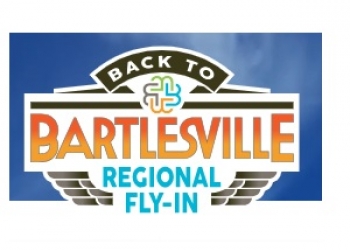 Tom Davis
The 2023 Back to Bartlesville Regional Fly-In is this Friday, September 22nd and Saturday, September 22rd at Bartlesville Municipal Airport.
Bartlesville Municipal Airport (KBVO) is rich in aviation history and in years past was home to the National Biplane Association and Tulsa Regional Fly-In.
Appearing on COMMUNITIY CONNECTION, Kevin Conner with the WW II Airbonre Demonstration Team invited everyone to enjoy two full days of aviation activities as we honor our WWII Veterans.
Admission is $10 per carload.
EVENTS AND DISPLAYS
AIRBORNE DEMONSTRATION TEAM'S C-49 "Wild Kat"
WWII Parachute Jump Demonstration – Saturday only
The WWII Airborne Demonstration Team Foundation was formed to honor and serve the memory of the men who fought and died to preserve America's freedom during WWII as members of Airborne units of the United States Army.
AT-6G "Nella" WASP SQUADRON
This AT-6, affectionately referred to as 'Nella, reflecting the Women Airforce Service Pilots (WASP) mascot Fifinella, was flown by the WASP in training classes from mid-1943 until the WASP were disbanded in December 1944. She was also the final check ride plane for some WASP to receive their silver wings. Three identified WASP Cadets flew this very aircraft while training. Today she is the responsibility of the WASP Squadron.
PT-13 and PT-17 STEARMAN BIPLANES
From 1934 until February 1945, the Stearman Aircraft Company, a division of the Boeing Aircraft Company, built a total of 8,428 model 75 airplanes for the U.S. Army and U.S. Navy for use as primary trainers. During this 11-year span, more American military pilots learned to fly in the Stearman model 75 primary trainers than any other airplane.
TULSA WARBIRDS
The Tulsa Warbirds Foundation provides flyover services for individuals and organizations upon request. They operate vintage World War II North American T-6 Texan Trainers.
VAN'S RV FORMATION TEAM
Van's Aircraft is the leading designer and manufacturer of kit aircraft, with more than 10,000 flying aircraft and a wide selection of models and designs. Van's has developed many different aircraft designs. They are sold as kits and customers assemble their aircraft in garages, shops, and basements. The results are personal aircraft with excellent flying qualities and performance at affordable prices.
ANTIQUE, CLASSIC AND UNIQUE GENERAL AVIATION AIRCRAFT
You will want to bring your camera to capture the huge variety of privately-owned aircraft that will be both flying and on display during the event. There will be a selection of rare and unique vintage and modern aircraft parked in the grass for viewing. Pilots have been invited to fly in from all over the United States, so expect to see flying machines you've never seen before!
This event is brought to you by the Bartlesville Community Foundation and the Charles W. Harris Foundation.
SCHEDULE
Friday Sept. 22nd
7:00am - Sunset: Aircraft arrivals and departures
7:30am - 10:30am: EAA Chapter 10 breakfast
8:00am: Gates open to the public
8:00am - 5:00pm:
Formation fly-overs all day
Aircraft display area and exhibit hangars open
Commemorative Air Force airplane rides available
Bellanca Aircraft display
Classic car display
WWII Veterans Display
WASP exhibit
Merchandise Vendors
3:00pm: Douglas C-49 WildKat promotional flight
Saturday Sept. 23rd
7:00am - Sunset: Aircraft arrivals and departures
7:30am - 10:30am: EAA Chapter 10 breakfast
8:00am: Gates open to the public
8:00am - 5:00pm:
Formation fly-overs all day
Aircraft display area and exhibit hangars open
Commemorative Air Force airplane rides available
Bellanca Aircraft display
Classic car display
WWII Veterans Display
WASP exhibit
Merchandise Vendors
11:00am: WWII Airborne Demonstration Team Jump Operations Briefing (open to the public)
11:30am: WWII Veterans Honor Ceremony and Flag Presentation - Bartlesville Youth Honor Team
1:00pm: WWII Airborne Demonstration Team - Jump Operation
« Back to News