Sports » Latest News
Sports
Posted: Jul 12, 2018 7:06 AMUpdated: Jul 12, 2018 8:06 AM
Three Rivers Sweep Indians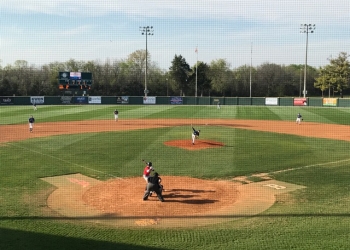 The Doenges Ford Indians hit a bit of a snag in their late-season surge on Wednesday night.
Bartlesville went into Checota and was swept by their foe the Three Rivers Bandits. Three Rivers beat the Indians 8-2 in game one, and then nearly no-hit the Indian's in game two, as Bartlesville lost 3-1.
Despite getting swept, there were still highlights. The Indian's got three hits out of former KWON intern John Cone in game one. Braden Beasley also tallied two hits and an RBI.
In game two, Bartlesville got good pitching outings from Cole Ellis, Zach Snow and Cone. The three combined to go four innings and only give up one run. Randsom Jones surrendered the other two runs in only 1.2 innings of work.
The Indian's narrowly avoided getting no hit in game two. Bartlesville did not have a base runner until the sixth inning. Hayden Clark and Isiah Meissner led the frame off with walks. It was Randsom Jones with a bunt single that broke up the no-hit bid and scored Bartlesville's only run of the game.
The Bandits had just taken out their starting pitcher, Brooks Antle, who had a perfect game through five innings.
With the loss, Bartlesville drops to 18-12 on the summer. The Indian's are now 3-5 against Three Rivers.
Next up for B'ville, starting on Friday afternoon, Bartlesville travels to the Ada area for five games over three days. KWON will have coverage of the games on Saturday and Sunday on AM 1400 and FM 93.3.
Schedule for upcoming weekend:
Friday: Indians vs. Three Rivers 3:20 PM - No Radio Coverage
Saturday: Indians @ Ada (DH) 4:00 PM - KWON
Sunday: Indians @ Ada (DH) 1:00 PM - KWON
« Back to Sports