Sports » Latest News
Sports
Posted: Mar 11, 2017 9:00 PMUpdated: Mar 11, 2017 10:00 PM
Tabor College Takes 2 of 3 From OKWU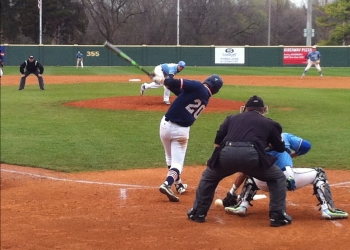 After taking game one on Thursday, it was a different story for Oklahoma Wesleyan University Eagles baseball team on Friday as Tabor College took both games on Friday 4-1 and 10-0 in a top ten matchup. Eagles are ranked second in the NAIA while Tabor College is ranked ninth in the NAIA.
In the first game, the score was tied at one going into the bottom of the fourth when the Bluejays scored one run to take a 2-1 lead and scored two runs in the bottom of the sixth to extend their lead and never looked back. Eagles Blake Ramdazzo took the loss on the mound. In six innings of work, Ramdazzo gave up four runs on seven hits and struck out two. At the plate, Jordan Harris went 3 for 4 with a RBI.
In the second game, it was all Tabor as they scored six of their 10 runs in the bottom of the third inning to take the three-game series. OKWU as a team just had two hits. Carlos Aldana took the loss. In over two innings, Aldana gave up five runs on five hits.
Eagles are 21-5 overall and 3-3 in KCAC play. Next up for OKWU will be March 14th as the Eagles will play a double header at Dallas Christian. First pitch is scheduled for Noon.
« Back to Sports