Sports » Latest News
Sports
Posted: Apr 29, 2019 7:18 AMUpdated: Apr 29, 2019 8:18 AM
Spring Football Just Around the Corner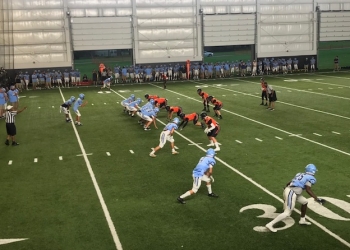 Spring sports are starting to wind up all across Northeast Oklahoma, and that means that spring football can start within just a matter of weeks.
In the Sooner state, spring football can begin right after the final spring event is over, that would be the state track meet on the weekend of May 11. So most spring action in the area will begin on Monday, May 13.
Bartlesville High is preparing earnestly for the two weeks of drills under first year head coach Jason Sport, who has been incredibly upbeat about his team's progress this offseason. Sport continues to preach culture as a key to the Bruin's success this fall.
Sport served as the Bartlesville defensive coordinator this past season, and was tapped to continue some of the forward momentum BHS grabbed under previous head coach Lee Blankenship.
Sport said that numbers of players out this year should be in line with where the Bruins were a season ago – Bartlesville had upwards of 90 players out at one point in fall camp. Sport again points to the culture on the gridiron as a reason for continued interest in being a part of Bruin football.
Bartlesville will have about 10 days of practice with a team camp to follow.
We will have much more on Bruin football into the spring as the next month goes on.
« Back to Sports