Sports » Latest News
Sports
Posted: Apr 19, 2017 8:23 AMUpdated: Apr 19, 2017 9:24 AM
Six Wins in a Row for Bruin Baseball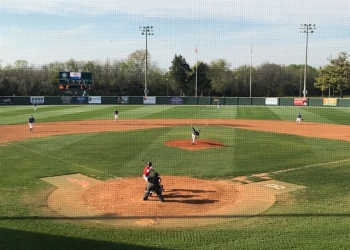 Bartlesville High has won six games in a row on the diamond, as the Bruins swept Sand Springs in a double-header at Bill Doenges Memorial Stadium on Tuesday night.
BHS took game one 5-2 behind a complete game effort from AJ Archambo on the mound. Archambo struck out 12 while allowing four hits over seven innings.
Bartlesville won game two 7-4 behind another solid pitching effort from Noah Yearout. He went six innings and gave up two unearned runs. Lucas Rietfors gave the Bruins some cushion on offense with a rope down the line for an RBI in the fifth.
BHS improves to 10-11-1 on the season. On top of the six straight wins – it is now five district wins in a row for the Bruins, who have worked their way to the middle of the pack in 6A-District 4.
Depending on how thing's end in the final two weeks, BHS could finish as high as third or fourth in the distrct.
Bartlesville will host Booker T. Washington for a non-district game next on Friday at 5:00 PM also at Bill Doenges Memorial Stadium.
« Back to Sports