Sports » Latest News
Bruins
Posted: May 02, 2019 2:29 PMUpdated: May 02, 2019 3:30 PM
Shelley Takes Second at State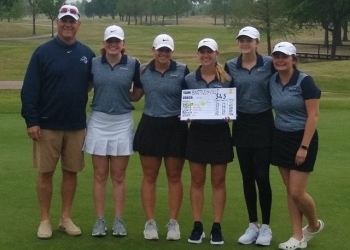 Bartlesville's Emma Shelley officially came in second in the 6A Girls Golf State Tournament. Shelley was in good shape headed into the final round on Thursday afternoon after posting a 71 in her first round to lead the field by two shots.
However, Ponca City's Sydney Hermann came on strong to surpass Shelley and take the state crown. Shelley finished with a day two score of 77, four shots behind Hermann.
We will have more on the Lady Bruins in the state tournament.
« Back to Sports