Sports » Latest News
Sports
Posted: May 13, 2019 7:29 AMUpdated: May 13, 2019 8:29 AM
Regionals Arrive for OKWU Baseball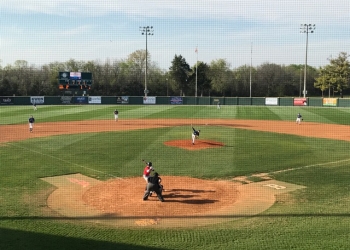 Oklahoma Wesleyan baseball begins its journey in the NAIA National Tournament on Monday, as the Eagles made the eight hour drive to Henderson, Tennessee for their Regional after graduation on Saturday afternoon.
OKWU will play at 7:00 PM and will take on the winner of the 11:00 AM game between No. 4 Concordia, Nebraska and No. 5 Clarke, Iowa.
Wesleyan baseball is no stranger to the NAIA Regionals, having been a No. 1 seed in the last three tournaments, and advancing to the NAIA World Series in 2017. Head coach Kirk Kelley says that prior tournament play should pay off this week.
The other game on Monday in Henderson features the host club No. 2 Freed Hardeman, Tennessee against No. 3 Texas Wesleyan at 3:00 PM.
« Back to Sports