Sports » Latest News
Sports
Posted: May 26, 2018 6:33 AMUpdated: May 26, 2018 7:33 AM
Pawhuska Weight Room Still Paying Dividends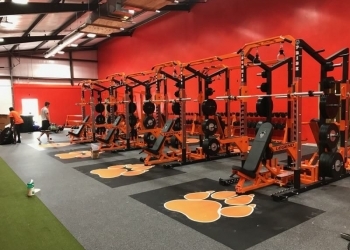 Team camp and the end of spring football is here for some area squads, as most teams have at least been after it for about two weeks.
Summer workouts, passing leagues and a few summer camps will be on tap for schools that are finishing up this weekend.
Over in Pawhuska, the Huskies are still acclimating themselves to first-year head coach Matt Hennesy. Hennesy has gotten quite a few kids to come out for the team this spring, and the facilities might have something to do with that. Pawhuska's weight room is still making waves across the state as one of Oklahoma's best.
Hennesy will have his work cut out for him in year No. 1 in Osage County. Five teams out of the nine squads in Class A District 5 were in the playoffs this past season, as the Huskies dropped a classification for the next two years in redistricting from 2A to A.
« Back to Sports