Sports » Latest News
OKWU basketball
Posted: Dec 04, 2018 3:41 PMUpdated: Dec 04, 2018 4:41 PM
OKWU Travels to Tabor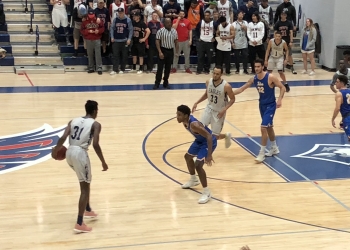 Oklahoma Wesleyan basketball hits the road for the third time in the last four games with a trip to Tabor University in Hillsboro, Kansas on Wednesday. After three games last week both teams get a bit of a break with this being the lone game of the week.
The men's team remains ranked No. 4 in the country and brings an 11-0 record into play. The Eagles are one of four teams in NAIA Division II that remain undefeated at this point in the season.
The Eagles have a chance to avenge an overtime loss in Hillsboro last season. Head coach Donnie Bostwick says that games like that make for great motivation.
Tabor is 3-8 on the season and has lost its last three contests. Meanwhile, OKWU is 6-0 in conference play, having won four of those game by double-digits.
The Lady Eagles are coming off a tough loss at Bethany, 61-58. OKWU is now 3-3 in Kansas Collegiate Athletic Conference play and 7-4 overall. Tabor is ranked No. 20 in the country and holds a 7-3 record overall, 4-2 in conference.
The Lady Eagles pulled off a nice upset on the road last season, 68-65. Danae Goodwin hit a game-winning three-pointer. However, Tabor would end the Lady Eagles season in the semifinals of the KCAC tournament.
Tipoff from Hillsboro is set for 6 p.m. for the doubleheader. Radio coverage can be heard on 99.1 FM KPGM.
« Back to Sports