Sports » Latest News
OKWU Softball
Posted: May 12, 2018 6:22 AMUpdated: May 12, 2018 7:23 AM
OKWU Softball an Underdog in Regionals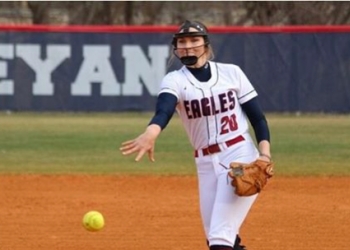 The Lady Eagle softball team will begin regional action on Monday afternoon against University of Science & Arts of Oklahoma. OKWU is the No. 4 seed while USAO is the top seed in the Dodge City, Kansas bracket.
These teams met back on March 6 in doubleheader with the Drovers winning both games. OKWU struggled in the non-conference portion of its schedule in the regular season. However, the start of conference play served as turning point for the Lady Eagles as they won 18 of their final 24 games.
OKWU head coach Katy Reeves said the season reset at its midpoint.
On offense Senior Michaela Shouldis and Freshman Ashley Stone have led the charge as both hit better than .400 in the regular season. Shouldis played on the 2016 regional squad as well.
Junior hurler Ashleigh Capps will be in the circle on Monday. Capps went 13-9 in the regular season and she posted a 1.92 earned run average, which was the second best mark in the Kansas Collegiate Athletic Conference.
Reeves has confidence in her veteran pitcher.
The matchup on the opposite side of the bracket is Midland, Nebraska against Jamestown, North Dakota. First pitch for the Lady Eagles and USAO is set for 1:00 p.m. from Legends Park in Dodge City, Kansas.
« Back to Sports