Sports » Latest News
Sports
Posted: May 16, 2019 7:10 AMUpdated: May 16, 2019 8:11 AM
OKWU Plays for Season in Regionals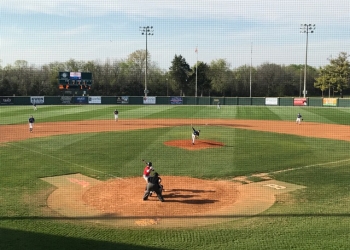 Oklahoma Wesleyan will be playing for its season on Thursday afternoon, as the Eagles lost the first of two possible championship games in the NAIA Regionals on Wednesday evening.
After a day filled with rain delays, Freed-Hardeman topped Wesleyan 7-4, to put both teams with one loss entering the final day of the event.
Freed-Hardeman had beaten Texas Wesleyan 5-1 earlier in the day to advance to face OKWU in the title round. The game started about 7:00 PM, it was scheduled to begin at 3:30 PM, but rain wreaked havoc on the day.
The Lions got a pair of three-run frames, in the second and fourth, to take a 6-1 lead early and never look back. The Eagles yanked starter Ryan Sandifer after only 3.2 innings, after he had surrendered six runs. Landon Williams came in for the final five-plus frames, but the Eagle offense could never mount a serious threat.
Wesleyan and Freed-Hardeman will now play for the fifth time in the past two years in the Regionals, winner on Thursday advances to the NAIA World Series, loser is done for the season.
First pitch at noon from Henderson, Tennessee.
The loss for Oklahoma Wesleyan snapped an 18-game win streak for the Eagles.
« Back to Sports