Sports » Latest News
OKWU Soccer
Posted: Nov 06, 2018 3:13 PMUpdated: Nov 06, 2018 4:13 PM
OKWU Men's Soccer Prepping for Semifinals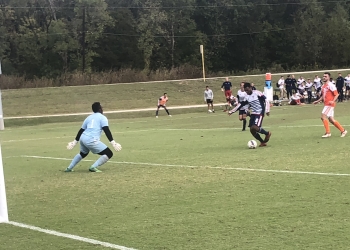 Oklahoma Wesleyan soccer is in the midst of another postseason run. The Eagle men's team knocked out Tabor 3-0 in the quarterfinal round of the Kansas Collegiate Athletic Conference tournament. The Eagles will take on Ottawa on Wednesday in the semifinals.
OKWU saw three different goal scorers in a relatively easy opening round win. Star players Stefan Lukic and Stefan Cvenatovic were held scoreless. The Serbian duo has combined for 34 goals and 22 assists to lead one of the most potent offensive attacks in the nation.
The fourth-ranked Eagles did drop a regular season game to Kansas Wesleyan who went undefeated and clinched the KCAC regular season title. However, the Eagles were without Lukic in the 4-2 loss on Oct. 27. This was the Eagles only loss after the season opener to Baker University.
The Eagles and Braves played a tight game in their lone regular season meeting. OKWU clawed out the 4-3 victory thanks to 77th minute strike from Alex Lozano.
Action from the OKWU Soccer Field starts at 7 p.m. on Wednesday.
« Back to Sports