Sports » Latest News
OKWU basketball
Posted: Jan 09, 2019 4:19 PMUpdated: Jan 09, 2019 5:19 PM
OKWU Hosts McPherson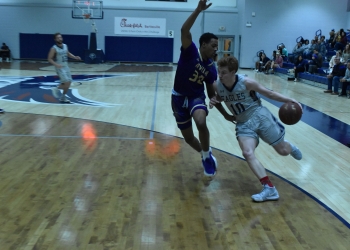 The Oklahoma Wesleyan Eagles will take the floor with the No. 1 ranking attached to their name for the first time on Thursday night as McPherson College comes to town. The OKWU men dropped its first game of the season to a nationally-ranked Southwestern team on Tuesday.
The 17-1 Eagles begin their second time through the conference slate tied for first place in the Kansas Collegiate Athletic Conference. OKWU defeated McPherson 78-59 on November 15 on the road. In that game Joshua Wilchcombe recorded 17 points and 13 rebounds. Wilchcombe is looking to respond after scoring just three points in Tuesday's loss, his lowest total all season.
The Lady Eagles have hit a hot streak as they've rattled off three consecutive wins. The OKWU women's team is 11-6 on the year and 7-5 in conference. The Lady Eagles are tied for fifth place in the KCAC at the midway point.
OKWU took care of McPherson 71-62 in the first matchup between the two teams. Tipoff for the doubleheader is set for 6 p.m. at the Mueller Sports Center. Radio coverage can be heard on 99.1 FM KPGM.
« Back to Sports