Sports » Latest News
Sports
Posted: May 17, 2017 5:27 AMUpdated: May 18, 2017 4:37 AM
OKWU Baseball to Regional Title Game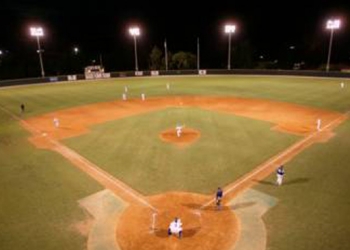 Oklahoma Wesleyan is into the title game of the Eagle's own Bartlesville Regional on Wednesday afternoon in the Opening Round of the NAIA Baseball Tournament.
OKWU topped Indiana Tech 15-14 in a roller coaster of a baseball game on Tuesday afternoon at Bill Doenges Memorial Stadium. The Eagles scored seven unanswered runs in their final two at-bats to walk off with the win.
Six of the seven runs game in the bottom of the eighth, where Oklahoma Wesleyan hit two of their six home runs on the day.
Will Price hit his second bomb of the game to pull the deficit down to one, then Alejandro Hernandez tied it with a solo shot.
Tyler Shumpert picked up the win on the mound for OKWU. He pitched a scoreless ninth to set up the walk-off. With runners on second and third base and one out it was an Indiana Tech error that gave Oklahoma Wesleyan the win.
OKWU improves to 50-9 on the season. The Eagles have won nine games in a row as they head to the first of two possible regional championship games on Wednesday afternoon at 4:30.
OKWU will await the winner of Indiana Tech and Midland, Nebraska. Those two teams play each other at 1:00 PM. The loser is eliminated and the Midland/Indiana Tech winner will have to beat Oklahoma Wesleyan twice to win the regional – tonight at 4:30 and then again tomorrow.
We will have the championship game for you this evening – 4:15 pregame from Bill Doenges on Sports Talk 1500 AM - KPGM and FM 99.1.
Oklahoma Wesleyan will head to the NAIA World Series with one more win.
« Back to Sports