Sports » Latest News
OKWU Baseball
Posted: May 16, 2019 4:06 PMUpdated: May 16, 2019 5:06 PM
OKWU Baseball Falls Short of World Series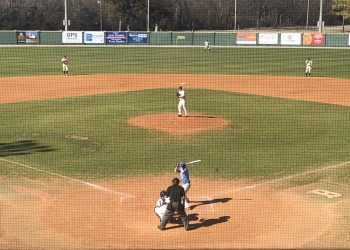 Oklahoma Wesleyan baseball saw its season come to a close after losing to Freed-Hardeman University for the second consecutive season. The Eagles fell just one game short of the NAIA World Series after losing 5-4 on Thursday afternoon.
Down 4-2 after six innings, the Eagles scrapped back to tie the game at 4-4 after a Colton Kelly home run and a sacrifice fly from Austin Sojka. FHU then would land the deciding blow as they scored on an RBI single off OKWU reliever Landon Williams.
Eagles starting pitcher Michael Anderson logged six innings and gave up four earned runs. Anderson was working on two days rest after logging eight innings in Wesleyan's game one victory on Monday.
OKWU accomplished quite a bit in 2019, including winning the Kansas Collegiate Athletic Conference regular season and tournament championships. The Eagles finished at 45-11 on the year which included winning streaks of 14 and 18 games.
« Back to Sports