Sports » Latest News
Sports
Posted: Apr 13, 2018 8:04 AMUpdated: Apr 13, 2018 9:35 AM
OKWU Baseball Back At It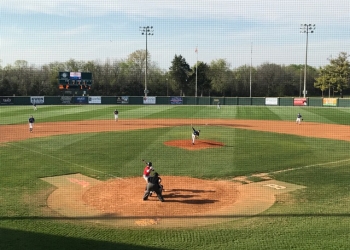 No KCAC play for Eagle baseball this weekend, but the game goes on in downtown Bartlesville]
Oklahoma Wesleyan (38-4) baseball is back in action at home on Friday afternoon for a non-conference double-header against Crowley's Ridge, Arkansas. The Eagles do not play a Kansas Collegiate Athletic Conference series over the weekend - all KCAC teams get a weekend off once the season begins.
OKWU is coming off a sweep against Manhattan Christian College in a two-game midweek series on Tuesday and Wednesday that was made up from a rainout earlier this year.
After the graduation of a few big boppers in the Eagle lineup last year, a new hitter with big numbers has emerged – Nick McGrew is hitting a sizzling .439 with 10 extra base hits. OKWU head coach Matt Parker talks about Mcgrew.
First pitch at 4:00 PM for game one – with game two to follow at the OKWU practice field.
« Back to Sports