Sports » Latest News
Nowata Basketball
Posted: Jan 08, 2019 10:21 PMUpdated: Jan 08, 2019 11:21 PM
Nowata Dismantles Welch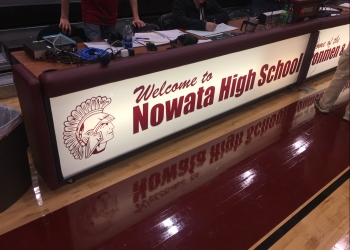 The Nowata Ironmen won big in a road game at Welch on Tuesday night, 69-39. With the win, Nowata is now 8-3 on the season. The Price Brothers, Luke and Mark, set the tone early for the Ironmen. This three-pointer from Mark Price aided the Ironmen to an early run.
The duo would combine for the first 12 points of the game.
The rout was on from the early goings with Nowata up 24 -12 after one quarter. The lead would stretch to 22 by halftime. The Ironmen made things difficult for the Welch offense all night long. Dillon Barnes was a turnover forcing machine in the third quarter. Barnes tallied nine of his 13 points in the third period.
Luke Price led the Ironmen with 15 points on the night. In total, four Nowata scorers tallied double-figures.
The Ironmen will host Chelsea for homecoming on Friday.
« Back to Sports