Sports » Latest News
Sports
Posted: May 10, 2019 6:17 AMUpdated: May 10, 2019 7:17 AM
Le Gets Seeded - BHS Tennis Heads to State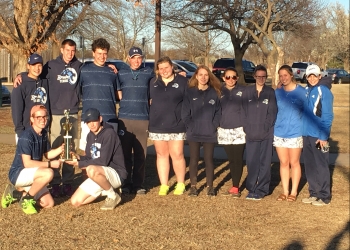 The entire Bartlesville High boys club advanced to state after a third-place finish in Regionals on Monday.
Only one Bruin will be seeded in the event, which begins on Friday, and that is No. 1 singles star Alex Le.
Le will be the No. 7 seed, and awaits a first round matchup with Will Jardan from Shawnee. No other BHS tennis player was seeded, and will be underdogs in their first round matchups. Head coach Bryan Reese talks about the prospects for his No. 1 singles player.
Reese went on to say his goal for every member of the club is to win one of their first two matches on Friday in order to advance to the second day of the tournament on Saturday.
Aside from Le, other Bruins competing are the No. 2 singles player for BHS is Luke Epperson. The No. 1 doubles team consists of Dax Butler and Jessie James. And the No. 2 doubles duo is Tony Morina and Cooper Williams.
The two-day event also runs through Saturday at the Oklahoma City Tennis Center.
Also on Friday – good luck to the Nowata doubles team of Gage Littlefield and Dillon Barnes, who qualified for the 4A State Tennis meet, and will play their first match.
« Back to Sports