Sports » Latest News
Sports
Posted: Jan 17, 2018 8:27 AMUpdated: Jan 17, 2018 9:31 AM
Lady Bruins Knock off Owasso, improve to 12-0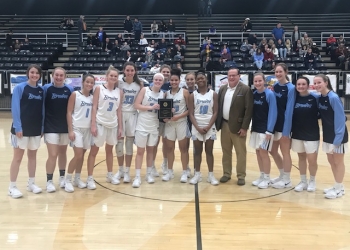 Top 10, no problem.
The Bartlesville girls picked up their most impressive win of the season on Tuesday at Owasso, as BHS beat the No. 3 Lady Rams 46-38.
It was the first win over a top-10 team for Bartlesville. The Lady Bruins stay undefeated at 12-0 to begin the season.
Things were touch and go at first, BHS trailed Owasso by as many as eight in the first half, but Bartlesville climbed within five at halftime. A huge run in the third quarter and the beginning of the fourth put the Lady Bruins up by 15 with more than six minutes play. This three-pointer from Erin Shoemaker was a part of the swing for Bartlesville.
The Lady Bruins went scoreless in the final 6:37 of the game, but it didn't matter, Bartlesville ran clock and won its 12th game in a row by eight. Owasso drops to 9-3.
On the guy's side things were opposite, the Bruin boys led by as many as eight in the third quarter, only to see the lead evaporate quickly. The Rams beat BHS 63-50. It is the fourth loss in a row for Bartlesville. Three-point shooting was good in the first half, this buzzer beater from Jaylin Oliver gave the Bruins a six-point halftime lead.
The well dried up in the second half though, as Bartlesville only hit two threes in the second half, after hitting seven in the first.
The Bruins are four-and-eight. Both BHS teams are in tournaments starting on Thursday.
« Back to Sports