Sports » Latest News
Sports
Posted: Mar 09, 2018 7:13 AMUpdated: Mar 09, 2018 8:20 AM
Lady Bruins Fall in Late Comeback Bid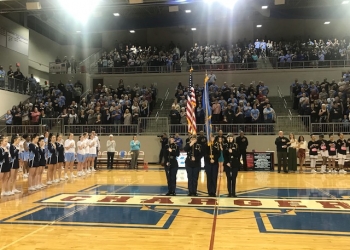 In a fierce comeback attempt, Bartlesville High fell just short in the first round of 6A State at Tulsa Memorial on Thursday evening.
BHS had its season come to an end in the state quarterfinals, as Edmond Santa Fe held on to beat Bartlesville 48-42 in a nail biter. The Lady Bruins trailed by as many as 18 in the third quarter before battling their way back. A 14-0 run over the course of three minutes down the stretch would get the game within one on this three-pointer, steal and a bucket.
Santa Fe would hit its next two free throws to extend the lead back to three. Bartlesville had a three-pointer in the air that could have tied it, but it didn't go down.
Jena' Williams scored 23 points to lead BHS. Erin Shoemaker added 11, the senior was huge down the stretch in the comeback attempt. Turnovers, a few defensive breakdowns, and missed shots plagued Bartlesville in the first half, which allowed the Lady Wolves to build a 14-point halftime lead, which quickly became 18 in the third quarter. The Lady Bruins had only three points in the second quarter – all coming on a Williams three-pointer.
A fantastic season for BHS ends at 26-2. Bartlesville graduates four seniors in Shoemaker, Ashlynn Nakvinda, Destiney Harris and Vivian Culver.
Congrats to BHS and head coach Krista Binam on a spectacular 2018.
« Back to Sports