Sports » Latest News
Sports
Posted: Apr 30, 2019 7:08 AMUpdated: Apr 30, 2019 8:09 AM
Lady Bruin Tennis Goes to State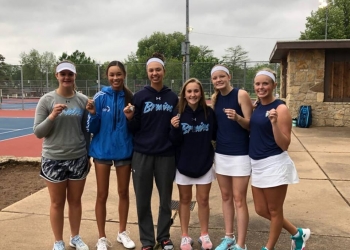 Bartlesville High continues to have a fantastic spring season, as another girl's club made it to state on Monday.
Congrats to the Lady Bruin tennis team, which finished in second place in the East-side 6A Regional , finishing only behind Bixby.
Bartlesville had everyone finish second straight down the line, with both singles players, Maddie Shelley and Erika Gruber, finishing as the runners up. Both BHS doubles teams finished as the runners up as well.
6A State for girl's tennis will be this weekend in Oklahoma City.
(Photo Courtesy of Bruin Athletics Facebook)
« Back to Sports