Sports » Latest News
Sports
Posted: May 01, 2019 9:54 AMUpdated: May 01, 2019 10:54 AM
Lady Bruin Golf at State on Wednesday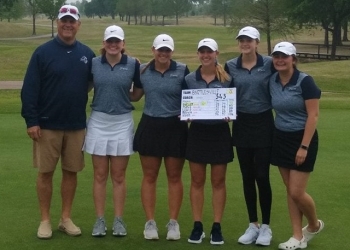 Bartlesville High has its first team in the state tournament competing on Wednesday, as the Lady Bruins are scheduled to start play in the 6A State Golf Tournament at the Earlywine Golf Course in Oklahoma City.
BHS qualified for state after finishing third in Regionals late last week. Bartlesville will have a chance to snag back-to-back individual state titles, with senior Emma Shelley likely to be in the mix.
Bartlesville shot its second lowest score as a team at Regionals last week, showing major improvement from a younger squad. First things first for the team, head coach Terry Hughes says he wants his entire club to savor the day today.
Shelley has been one of the best golfers in the state all season long, winning six of the seven tournaments she has appeared in. She was the pre-State champion the past two seasons, and has been around the block with state tournaments over her career. Hughes talks about Shelley's chances.
The state tournament is a two-round event, with one round on Wednesday and the final round on Thursday. Bartlesville is scheduled to tee off at 9:32 AM from tee No. 10.
We will have updates on the Lady Bruins in the 6A State Tournament throughout the day.
« Back to Sports