Sports » Latest News
Sports
Posted: Apr 06, 2018 10:11 AMUpdated: Apr 06, 2018 11:21 AM
Jena' Williams Commits to Nevada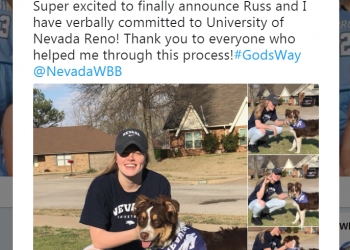 Bruins and Wolves are pretty tough animals - And a tough Bartlesville High girls' basketball player has committed to a D-1 school.
Lady Bruin basketball standout Jena' Williams announced that she has verbally committed to play NCAA basketball at Nevada. She announced the decision publicly via Twitter on Thursday.
Williams was Bartlesville's leading scorer in 2018, and helped lead the Lady Bruins to the 6A State Tournament for the first time in 26 years. Williams has been the leading scorer and floor leader for an up-and-coming junior class since she started as a freshman.
The 2018 Bartlesville girls basketball team went 23-0 in the regular season, and won its first 25 games of the year.
Williams scored 23 points to lead Bartlesville in their ultimate loss to Edmond Santa Fe at 6A State in March.
Both the other juniors off this past winter's team, Avery Allen and Trinity Parker, will likely get some more college looks as well.
« Back to Sports