Sports » Latest News
Nowata Football
Posted: May 24, 2018 2:34 PMUpdated: May 24, 2018 3:34 PM
Ironmen Building Foundation in Spring Practices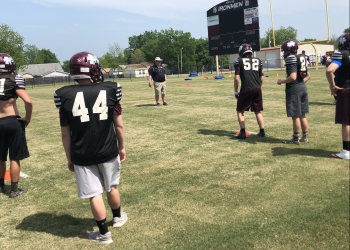 Our daily spring football report highlights Nowata today. The Ironmen began its annual team camp taking place in Pawhuska this year.
Nowata is hoping to have a productive offseason with Bob Craig returning as head coach. This will be the first time in four years the Ironmen have kept a coach for more than one season. That continuity will be a benefit not to mention the Ironmen's increased numbers this spring.
As a veteran coach, Craig is excited to institute his plan for 2018.
The Ironmen obviously have work to do after an 0-10 performance in 2017. Retention of last year's talent and additional players on roster should benefit the Ironmen.
Organization and defense have been major points of emphasis for the Ironmen this spring as they come to backend of spring practices.
Team camp runs through Friday in Pawhuska.
« Back to Sports