Sports » Latest News
Sports
Posted: Apr 16, 2018 7:28 AMUpdated: Apr 16, 2018 8:30 AM
Huff Talks Athletics Amid Walkout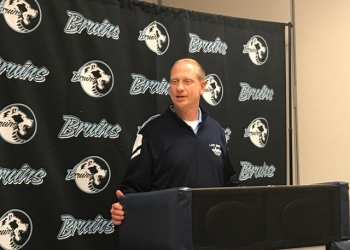 Schools are back in session across the state on Monday, after the conclusion of the teacher walkout – that means activities and athletics are all getting back to normal.
At Bartlesville High, the sports really never stopped. BHS postponed one event on the first day of the walkout, but varsity athletics continued even though there was no school. Bartlesville High Athletic and Activities Director Ryan Huff explains.
The continuation of the sports allowed seniors at BHS to continue to have their respective sports in the spring – and not have to worry about making up games late into May.
Almost all 6A schools continued to compete – there were some lower classification schools in the area that stopped all activities – such as Oklahoma Union and others.
Full comments from Huff about athletics and the walkout - along with all other items Bruin related.
« Back to Sports