Sports » Latest News
OKWU basketball
Posted: Jan 10, 2019 10:09 PMUpdated: Jan 10, 2019 11:09 PM
Feickert's Career Night Boost Eagles; Ladies Win Fourth Straight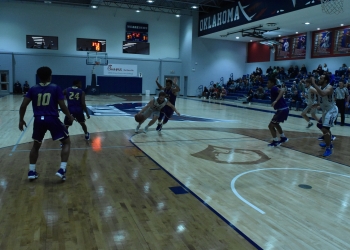 The Oklahoma Wesleyan Eagles got back on track with a Thursday night sweep of McPherson College. The Lady Eagles won the opener 82-73.
Once again the OKWU women used a strong third quarter to push themselves over the top. With the game tied at 44 with just over four minutes left in the third period the Lady Eagles closed out with a 16-4 run. OKWU would hold on in the fourth quarter to win its fourth consecutive game.
Three Lady Eagles scored in double-figures with freshman Makayla Melton leading the charge with 15 points.
The Lady Eagles are now 8-5 in Kansas Collegiate Athletic Conference play and 12-6 overall.
The No. 1 ranked men's team ran into another scare but ultimately pulled away to defeat the Bulldogs, 103-83. It was a back-and-forth affair early on, but it was McPherson who went on a small run to take a 46-45 halftime lead.
The Bulldogs stretched their lead to six points at the 16-minute before OKWU kicked it into gear. After trading buckets for nearly five minutes the Eagles finally got over the top and reclaimed the lead near the ten-minute mark at 68-66.
An 11-0 run stretched the lead further and the Eagles outlasted the bulldogs late in the game. Senior Jake Feickert was instrumental in the win. Feickert totaled 29 points and eight rebounds, both career highs. This and-one bucket put a cap on Feickert's career night.
Feickert also converted all 17 of his free-throw attempts.
The Eagles are now 18-1 and 12- in the KCAC. Both teams will travel to Salina, Kansas on Friday ahead of Saturday afternoon's doubleheader.
« Back to Sports