Sports » Latest News
Sports
Posted: Apr 16, 2018 7:34 AMUpdated: Apr 16, 2018 8:35 AM
Faith Hopkins Wins Spring OJGT Event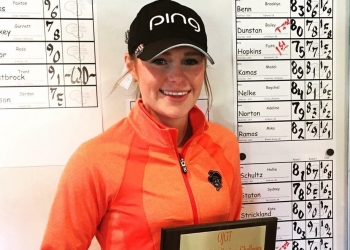 A Lady Bruin golfer did tremendously at the Oklahoma Junior Golf Tour over the weekend.
Faith Hopkins won the Spring Tournament at Bailey Ranch – she shot a two-round score of eight over par, highlighted by a first round 75 to win the event by six strokes.
Sunday's round was comprised of 11 pars and two birdies. Hopkins will be one of the favorites to compete for a 6A state title next month – the senior has signed collegiately with Oklahoma State.
Hopkins and the entire Bartlesville High team will be in action at home this coming weekend – as Hillcrest Country Club hosts the girl's golf All-State Preview. Practice rounds are on Thursday, with the tournament on Friday.
Hillcrest is hosting the 6A State Tournament this year – so this is a warm up for that event. Hillcrest is looking for volunteers to score the tournament.
People that are interested can call the golf shop at 918-333-0687.
(Photo from Bartlesville Athletics Facebook Page)
« Back to Sports